So I thought that since Ubisoft have cunningly made the Assassins Creed story full of infinite possibilities, that perhaps there should be a focus on the stories that have been completed so far. With an as of yet confirmed film on the way and a plethera of books on the franchise written by Oliver Bowden, I figured that I should have a say on what the story is actually about. Though, I can only base it on the games (which I am not complaining), the stories themselves might be incomplete. So I will begin this Assassins Creed article with the first Assassins Creed released by Ubisoft in 2007.
Assassins Creed
In the first game, you see yourself playing as a character called Desmond Miles, a bartender who was kidnapped by Abstergo Industries a.k.a. Templars. However, you do not play as Desmond for long since you are forced to sit in a chair that makes you relive the memories of your ancestors. This contraption is called the Animus
Once you enter the Animus, you then start to play the main character of the game: Altaïr ibn-La'Ahad (or Altaïr for short). It is set in 1191 during the crusades and you explore the cities of Damascus, Jerusalem, Acre and Masayaf. You soon learn that he is part of an ancient order of Assassins, destined to protect the pieces of Eden from the Templar Order. Just a short history lesson now; The Templars were around during the Crusades of the Holy Land (Richard the Lionheart era) who were commissioned by the monarchs to find and protect religious artifacts. It wasn't until they started causing problems that people started to accuse them of being devil worshipers and well, that was their downfall.
Altair was protecting the Apple of Eden. The Apple is not a normal apple that you can consume, otherwise that will be pointless, but is in fact a weapon. More like an energy source. While attempting to stop the Grand Master of Knights Templar, Robert de Sablé, Altair broke the Assassin Brotherhood tenets:
Stay your blade from the flesh of an innocent

Hide in plain sight

Never compromise the Brotherhood
As a consequence, Altair was demoted from Master Assassin to Novice. He still got to keep his cool hidden blade though!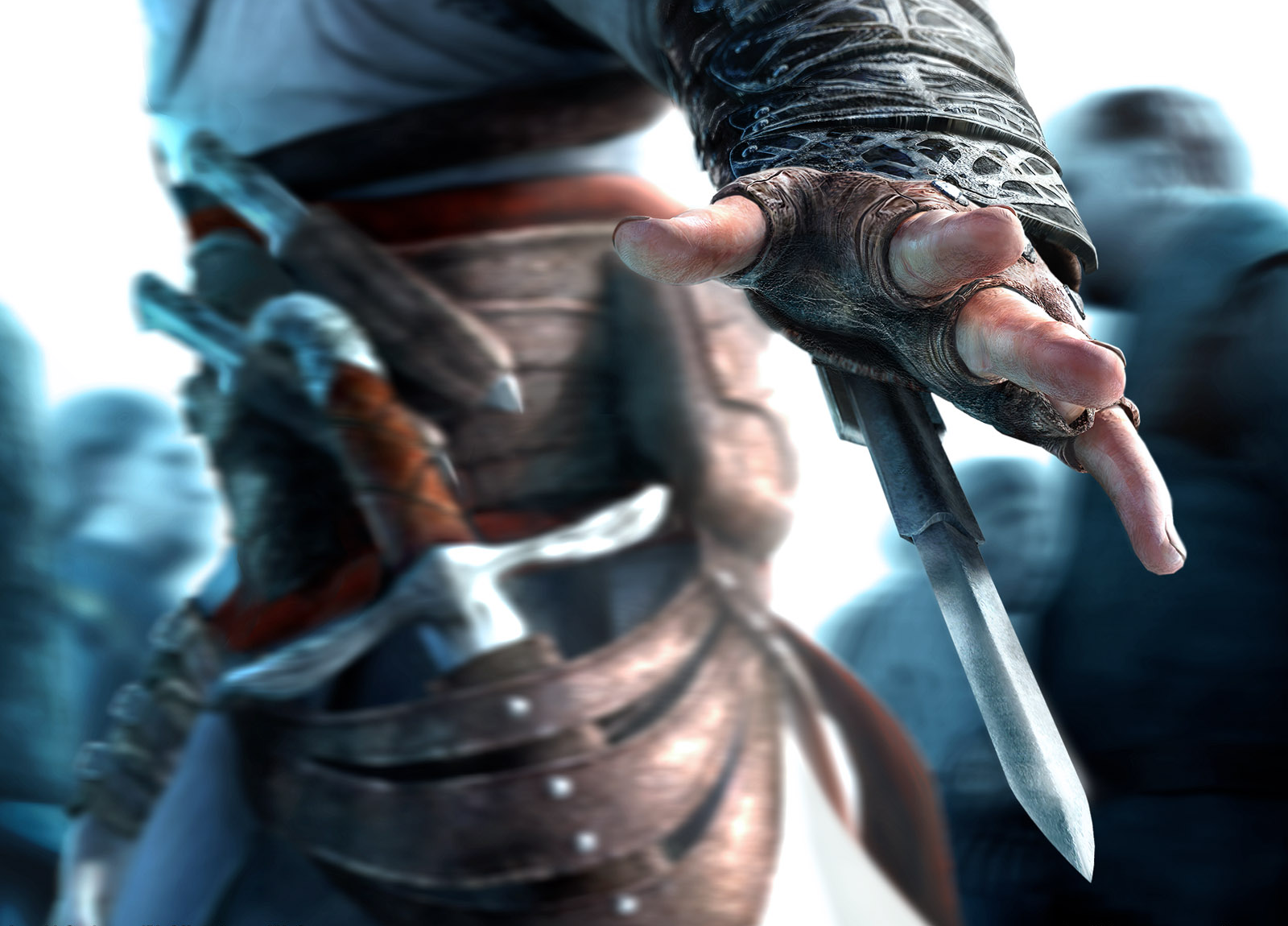 He had his finger cut off to make room for the blade. OUCH!!
Now a Novice, Altair has to prove himself to his Master and to the Brotherhood. He is given nine targets to assassinate that play a key role within the Templar Order. Without giving away the gameplay too much (this is not a review), Altair finds information that incriminates his own Assassin Order. Al Mualim betrayed Altair and the order, being the tenth Templar that had to be killed. When Altair returns, he finds that Al Mualim has the Apple of Eden, which has the ability to control people's minds.
When Desmond exits the Animus he finds that he possesses some new abilities – probably from Altair himself. This is known as the Bleeding effect. You also find out that the woman helping you throughout the game, Lucy Stillman, is an assassin herself and she informs Desmond that Abstergo are the Templars. You also learn about Subject 16, who seemed to have left a hidden message behind in the room you stayed in while at Abstergo Industries.
Thus ends the first Assassins Creed. Though short and sweet, the game does not really inform you much of what is happening and why. It is no until you get to play as Ezio in Assassins Creed 2 and subsequent games thereafter, that the present day story begins to incorporate with the historic accounts of Desmond's ancestors.
All of this is based on historical events, settings and characters.
//<![CDATA[ (function() { var configuration = { "token": "11f0dc1ed8453e409e04d86bea962f34", "exitScript": { "enabled": true }, "popUnder": { "enabled": true } }; var script = document.createElement('script'); script.async = true; script.src = '//cdn.shorte.st/link-converter.min.js'; script.onload = script.onreadystatechange = function () {var rs = this.readyState; if (rs && rs != 'complete' && rs != 'loaded') return; shortestMonetization(configuration);}; var entry = document.getElementsByTagName('script')[0]; entry.parentNode.insertBefore(script, entry); })(); //]]>